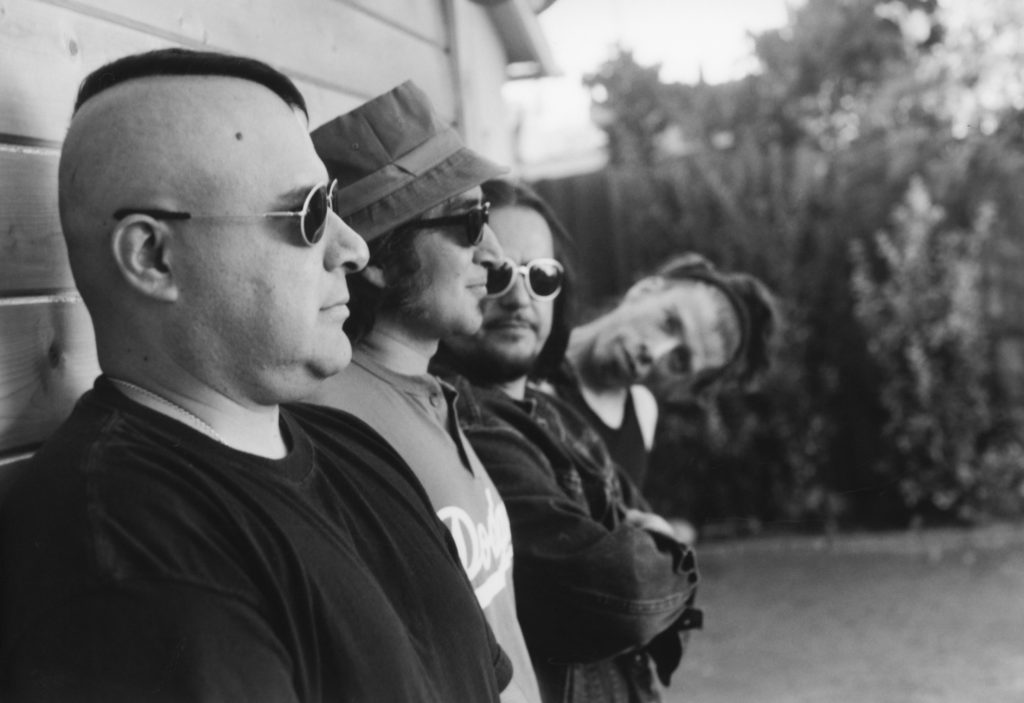 From 1998:
The Psychotic Aztecs is a new, Los Angeles based group whose culturally mixed approach to music reflects the complexion of the city – and the world – in which they reside. Although the group is new, the band's members have all amassed an impressive list of credits. The Psychotic Aztecs are: Tito Larriva, John Avila, Johnny Vatos and Stevie Hufstetter.
What started out as a one-off recording session for Alternative Latin Rock indie, Grita! Records, spontaneously transformed into a real band. It was the result of a unanimous musical vibe; when questioned, Larriva said, "After we cut the first track I kept thinking that this should have happened a long time ago." Although the band sings mostly in Spanish, their original goal — to provide interesting and engaging music for everyone — is certainly achieved.
The public's first listen to The Psychotic Aztecs was on the Grita! compilation album "Greê-Tah=Scream!" in which they contribute two songs; the moody and introspective "La Tierra Me Cubre"('The Ground Covers Me') and "Hombre Secreto", an instantly memorable Spanish version of the (Johnny Rivers, Ventures, Devo) classic "Secret Agent Man." Later, they made an appearance on Grita!'s 1998 label sampler, "Checkeetout". The band's long awaited full -length debut "Santa Sangre" ('Sacred Blood') will be released on Grita! on February 16, 1999.
TITO LARRIVA: Although born in Mexico, Tito has lived most of his life in El Paso, Texas and Los Angeles. He first achieved notoriety in the US music scene in the early '80's as leader of the seminal Punk band, The Plugz that released several albums on Larriva's own Fatima Records label. Later, as leader of The Cruzados (Arista), he was the author of three Top 5 Rock Radio singles ("Motorcycle Girl", "Hanging Out In California" and "Bed Of Lies"). More recently, he has been writing and performing as the leader of Tito & Tarantula (Cockroach). Not only has Tito's music been in the public eye for two decades, but so has his face. Many will recognize him due to his 3 year stint as bandleader for FOX-TV's "Culture Clash" (where he was kind of like a Mexican Paul Shafer, but cooler), and his numerous film roles. If you remember 'radiohead' from David Byrne's "True Stories", or the guy that shot Quentin Tarantino in Robert Rodriguez's "Desperado", or the vampire bandleader in "From Dusk Till Dawn", or "Hammy" in "The Pee Wee Herman Show" and "Pee Wee's Playhouse", then you've seen Tito. Sr. Larriva also wrote much of the soundtracks for "Desperado" and "From Dusk Till Dawn" and many others including Kevin Costner's "Tin Cup" and Johnathan Demmy Jr.'s "Short Stories". Tito's long list of film credits also include Cheech Marin's "Born In East LA" and Herbert Ross' "Boys On The Side".
JOHN AVILA: Vocalist, multi-instrumentalist, songwriter and producer, John Avila, while best known as the athletic and energetic bassist and co-producer of Oingo Boingo, has also recorded (on bass) with such notables as Steve Vai, and Robby Krieger and played in the house band of the weekly syndicated TV program "Culture Clash" (with current band-mates Tito Larriva and Johnny Vatos). As a producer, he co-produced (with Danny Elfman) all of Oingo Boingo's albums and shaped the in-studio sound of other groups such as Reel Big Fish (MCA), The Allstars, Voodoo Glow Skulls, and others. In The Psychotic Aztecs, John (on bass) forms one half of an unstoppable rhythm section.
JOHNNY VATOS: For eleven years, Johnny was the high-profile, charismatic drummer of Oingo Boingo, known for his mohawk, his unique on-stage antics and his relentless and pounding yet innovative beat. In addition to Oingo Boingo, Johnny has performed in various other groups and recorded soundtracks for "Midnight Run", "National Lampoon's Senior Trip" and most recently, "From Dusk To Dawn." Johnny also performed weekly with current bandmates John Avila and Tito Larriva in the FOX-TV series, "Culture Clash"
STEVEN MEDINA HUFSTETTER: As the eternally enigmatic and mysterious lead guitarist, Stevie Hufstetter injects a liberal dose of his personality into his music. Stevie, the man who perfected the modern 'spaghetti western' guitar style, spews out guitar magic that leaves every mouth in the room agape. Stevie's credits include performing and writing with The Dickies, The Quick, The Falcons and others. He also worked with Tito Larriva in The Plugz, The Cruzados and the scoring of the soundtrack for the early '80's cult-classic "Repo Man".