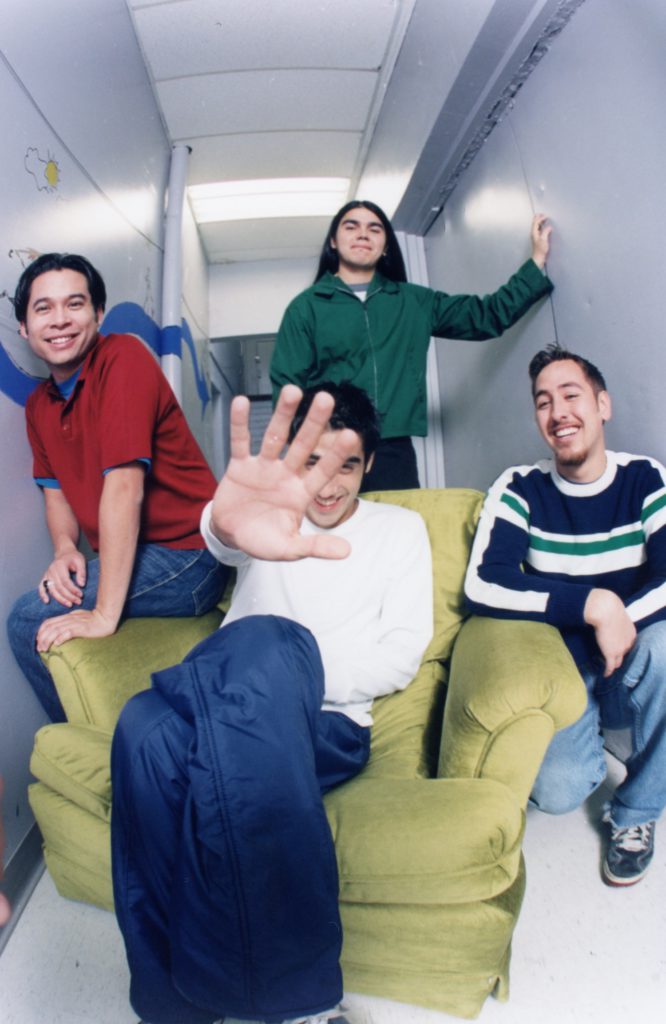 From 1998:
Luis Tamblay — vocals, bass
Marthin Chan — guitar, keyboards
Cristian Escuti — guitar
Albert K. Howard — drums
Volumen Cero are at the forefront of a new breed of bands emerging from the US. The Miami-based band comprised of members from Chile and Peru has been working together for five years but has been in it's recent state for just over one year. In their short existence as Volumen Cero, they have done what few bands are able to accomplis: their brand of melancholic Space Rock has captured the attention of English and Spanish press and media. And this is only the beginning.
Volumen Cero first established themselves in the Miami alternative scene in 1993 under the guise Orgasmic Bliss. The release of an independent CD in '96 attracted the attention of regional press and received strong radio support. It also brought on many changes. The band parted ways with their full-time keyboard player and became a quartet. The music evolved to include a harder-edged sound, less poppy and increasingly transcendental, while maintaining their youthful integrity. It was early in 1997 that Volumen Cero was officially born.
Volumen Cero mixes eclectic musical styles together with sophisticated ideas. Their influences range from New Order to Gish-era Smashing Pumpkins, Soda Stereo to Radiohead, while sporadically adding examples of traditional Latin rhythms. Melancholic and moody, the music grows fierce with intensity before winding down into an introspective transience. The lyrics are extremely personal and almost surrealistic, each song a chapter of their lives. They exude a genuine energy and enthusiasm which is especially evident in their live shows – and is sorely missed within the realms of popular music today. Their sound is often augmented by a three-piece string section.
Volumen Cero has managed to attract attention in a very short period of time. They have been featured in major regional and national publications, including the Billboard, The Herald and the Miami New Times. They have repeatedly been featured on Telemundo, Univision, TeleMiami and on MTV Latin along with rotation of their video for "Automatico." In August and September of 1998, they went #1 Latin Rock Specialty for radio in the United States, and they are still programmed into many stations.
Volumen Cero have been a busy band with many regional tours in Puerto Rico, Flordia, and California. Amongst these tours, they have performed at 1998's South By Southwest Music and Media Conference, 2 concerts in Colombia for Rock Al Parque 1998 (80,000 people), Festival Pululahua 1999 in Ecuador, Justas in Puerto Rico (10,000 people), as well as shows in Chicago aand Washington DC.
Volumen Cero released their debut album "Andromeda" through Grita! in May 1998. "Andromeda" was recorded in Miami during December of 1997. The record was produced by Richard Coleman,  formerly of Argentina's platinum selling Soda Stereo and current leader of Los 7 Delfines.  Currently, they are writing songs for album number two, due out early next year.